#essential travel
#
Story highlights
The rooftop pool at The Joule juts out over the street below The NYLO Dallas South Side hotel is set in a former Sears warehouse dating to 1911 White Rock Lake has nine miles of paved trails for joggers and bikers Dallas' art district, spanning several blocks, is the largest art district in the United States
In D-Town on business and looking for the best places to eat, drink, sleep and squeeze in a bit of play?
This mini-guide highlights the best of the best.
Tackle them all and they might just make you an honorary Texan.
Fastest, most comfortable airport transport
Whether you're headed uptown or downtown, Premier Transportation gets you there in style.
The city's largest car service, it handles an average of 250 airport drop-offs and pick-ups a day.
Its fleet of 70-plus late-model sedans, vans and more is always stocked with a newspaper, bottled water and a professional driver.
Premier has its own smartphone app, which not only lets you make and manage reservations, but also texts you a few minutes prior to your pick-up time with a picture of your driver, the vehicle's license plate, and the car's GPS coordinates so you can see in real time exactly how far away it is.
Premier Transportation . +1 214 351 7000
Rooms with views
One of the hippest hotels in town is The Joule, located in a landmark 1920s building refashioned by award-winning designer Adam D. Tihany.
The hotel opened six years ago, but it's already undergone a $78 million expansion that's helping breathe new life into the central business district.
The view from the rooftop pool — part of which hangs out over the street below — is grand, but the telescope in Room 2001 allows guests a picture-perfect perspective as well.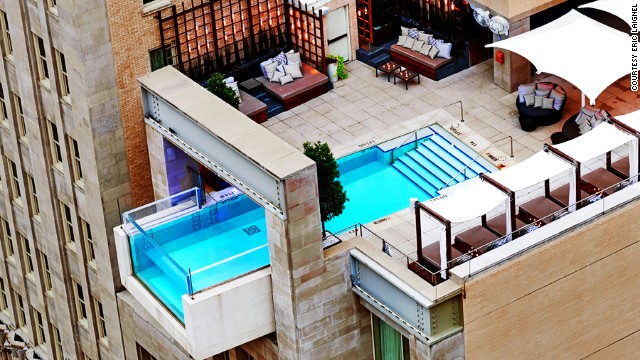 Gives new meaning to the phrase "hanging out at the pool."
The gift shop, TENOVERSIX, is a great place to pick up a gift for loved ones back home.
Elsewhere, a Lone Star state-size makeover has reinvigorated the W Dallas-Victory, infusing it with cowboy chic decor and amenities like gadget docking stations and rainforest showers.
Its 33 stories overlook the American Airlines Center and other Victory Park hotspots, which can best be seen from the six Cool Corner rooms, the five Wow Terrace Suites and the Extreme Wow Suite (which even has a foosball table).
On the burgeoning South Side, the NYLO Dallas South Side is set in a former Sears warehouse dating to 1911.
All guestrooms feature artistic details like exposed brick walls, high ceilings and concrete floors.
For unobstructed views of the Dallas skyline, from the Trinity River to the Texas Star Ferris wheel, you should ask for a Deluxe Double Queen on the north side of the hotel, or any of the 12 suites, particularly the top-floor Lifestyle Suite.
The Joule . 1530 Main St.; +1 214 748 1300; from $299 pe r night
W Dallas-Victory . 2440 Victory Park Lane; +1 214 397 4100; from $288 pe r night
NYLO Dallas South Side . 1325 S. Lamar St.; +1 214 421 1080; from $140 per night
When thinking of fine dining in Dallas, it's impossible not to think of Abacus.
Helmed by four-time James Beard nominee and "Iron Chef America" winner Kent Rathbun, the five-star dining room showcases a melding of Southwestern, Mediterranean and other cuisines in meticulously prepared dishes that are difficult to choose between.